Collectible Eau De Toilette container/bottle by Coty in the L'Aimant fragrance. NOTE: This is for the container only - no perfume/toilette inside.
From the 1940-50's I believe, the outer container is lucite with a gold confetti fleck design. Inside is glass bottle that contained 1.25 fl oz of L'Aimant. Atomizer is still in good condition with no hardening. About 20 years ago when we had an antique shop, I purchased a large amount of vintage Coty perfume and powder from a distributor - some were testers and have just the bottles, some are full, never opened. I will be adding these here in the main catalog as well as in the Perfume and Scent Gallery (link below). Actually, I had thought all of these were sold but in our move we located 3 box fulls in our supply area, so stay tuned ! There are some old fragrances, no longer made by Coty. Of course, the fragrance is probably either too strong or too weak by now, but the bottle and packaging will be collectible.
Color: creamy white with gold confetti
Dimensions: 4-3/4" high x 2-1/2" wide
Manufacturer: City
Quality: good
Quantity: 1
Vendors Item# 22938
Shipping: $3.00 US First Class Mail
Insurance: Included In Shipping
Priority Mail: $5.15 US Including Insurance
Gift Wrap: AVailable Free
Most of our items are vintage unless we tell you otherwise. Therefore expect them to be in "Vintage" condition. This means normal wear and some softening of stone sparkle is to be expected. If either is in excess we will note it in our description. We do not thoroughly clean our items, leaving that to the preferences of the buyer, and if there are any serious problems, flaws or noticeable repairs, we will always try to note it in the description. Realizing that nothing can replace a "hands-on" inspection of an item, if you are not satisfied with your purchase for any reason, we will always accept returns or otherwise try to make you a satisfied customer. Our return policy can be found at the top of each item page.
If you ask us to hold an item for you and then change your mind about purchasing, please let me know so that we can remove the hold and release for sale. Thank you for shopping with us !
For additional information or to place an order for this item, please feel free to email us at saf1551@yahoo.com or call (304) 945-9136.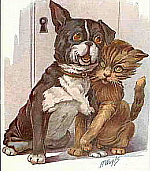 Vendor Contact Information:
Jarretts Jade Jewelry & Small Antiques
Contact: Bill or Sally
889 Sherwood Rd
Charleston, WV 25314 USA
Phone: (304) 945-9136
saf1551@yahoo.com
https://tace.com/vendors/bjarrett.html.