Tonka Fire Truck Transformer - This is a large red fire truck typs transformer toy about 13" long/or high. It has wheels to roll or will stand up. Looks complete, but I'm not an expert on these and can only go by what I see. The second is a Bandai white cat-like figure 11" high standing with all kinds of possible "transformations" Silvertone feet and red/black accents. Next is a truck or jeep 6" long x 3-1/4" wide, 6 wheels and hard plastic marked on the top Hot Wheels. It opens up to a brightly colored inside "volcano"? and most of the parts - come a part.
Please order by name of item - shipping may be parcel post so email your order so that I can figure actual postage for you.
For More Items Like This Use The Search Option At The Top Of The Page

TO ORDER THIS ITEM - Best Way - Just click the Blue Shopping Cart Button to the left of the photo and then

wait for us to confirm the availability of the item before making payment.

For Sale Prices Always Use The Cart Method So We Can Invoice You for the Sale Price !

Check our main page for sale information

If there is a PAYPAL button beneath the CART button, you can QUICK PAY but waiting for item

availability confirmation is the best way......!

NO SHOPPING CART Or PayPal BUTTON ? The item is either sold, on hold or out of inventory (O/I).

Email us at saf1551@yahoo.com giving us the item # and we'll verify it for you and if the item is available,

we will send you a PayPal Invoice or other payment information.

Don't Forget To Browse Our Jewelry & Accessory Resource - Click Below

ALL THAT ADORNS, CREATES, DESIGNS, ENHANCES

ADDS TO, REFLECTS, INFLUENCES, CONSTRUCTS, MANUFACTURERS,

REVEALS, DRESSES, COMPLIMENTS OR OTHERWISE FITS OR ADDS TO

THE HUMAN FORM - IT IS HERE.
Price: $ 10 each
Pattern: see description
Dimensions: see description
Quality: good
Quantity: see description
Tace Item# 42919
Payments: PayPal, Money Order, Personal Check, Layaway
US Shipping: $4.00 first class
International: See shipping policy top of page
Most of our items are vintage unless we tell you otherwise. Therefore expect them to be in "Vintage" condition. This means normal wear and some softening of stone sparkle is to be expected. If either is in excess we will note it in our description. We do not thoroughly clean our items, leaving that to the preferences of the buyer, and if there are any serious problems, flaws or noticeable repairs, we will always try to note it in the description. Realizing that nothing can replace a "hands-on" inspection of an item, if you are not satisfied with your purchase for any reason, we will always accept returns or otherwise try to make you a satisfied customer. Our return policy can be found at the top of each item page.
If you ask us to hold an item for you and then change your mind about purchasing, please let me know so that we can remove the hold and release for sale. Thank you for shopping with us !
For additional information or to place an order for this item, please feel free to email us at saf1551@yahoo.com or call (304) 945-9136.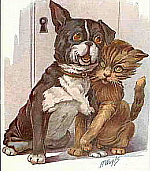 Vendor Contact Information:
Jarretts Jade Jewelry & Small Antiques
Contact: Bill or Sally
889 Sherwood Rd
Charleston, WV 25314 USA
Phone: (304) 945-9136
saf1551@yahoo.com
https://tace.com/vendors/bjarrett.html.